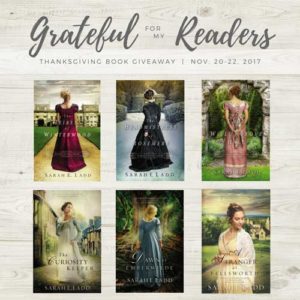 "Grateful for my Readers" Giveaway!
This Thanksgiving season I am reminded how blessed I am to have such amazing readers! I'm so appreciative of your support, kind words, and encouragement. To show my gratitude, I am giving away some books! Three winners will receive one book each (winners choice of title!) To enter, visit my Facebook page. The winner will be announced on Wednesday, Nov. 22, 2017. Good luck!
$1.99 E-Book Sale!
For a limited time, the e-book versions of Dawn at Emberwilde and A Lady at Willowgrove Hall are just $1.99! I'm not sure how long these sales will last, so grab them while you can!
Dawn at Emberwilde:  Kindle  |  Nook
A Lady at Willowgrove Hall:  Kindle  |  Nook
Win 50+ Inspirational Romance Novels!
I've teamed up with 51 fantastic authors to give away a huge collection of inspirational romances to 2 lucky winners, PLUS a brand new eReader to the Grand Prize winner! Oh, and did I mention you'll receive a collection of FREE ebooks just for entering? You can win my novel A Stranger at Fellsworth, plus books from authors like Susan May Warren, Mary Connealy, and Carrie Turansky! Enter the giveaway by clicking here. Good luck!
Snow Day Giveaway – Coming

Guys, I've teamed up with several author pals, and we're planning a mega-multi-author giveaway in December. Right now everything's top secret, but we'll be sharing details in the coming weeks. Keep an eye on Facebook, Twitter, and your email inbox for more details coming soon.