Spring Fling Giveaway!
Romance is in the air! I have teamed up with several author friends for a fun book giveaway to celebrate spring. Enter now for your chance to win 1 or 8 #romance novels! http://tinyurl.com/lyahv6p (Gotta say it: contest not administered or endorsed by Facebook. Open to US residents only.)
Pre-Order Special
The e-book version of "A Stranger at Fellsworth" is on sale for $4.99. How does it work? If you order today at the discounted price, the e-book will automatically be delivered to your e-reader on May 16th. Enjoy!
Kindle: http://tinyurl.com/hyblwy4
Nook: http://tinyurl.com/j3n7g5e
CBD: http://tinyurl.com/hkeldr7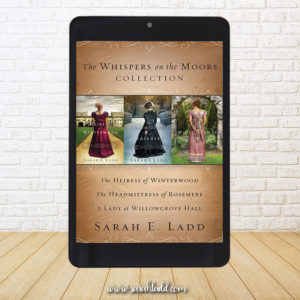 Three Books, One Low Price
Want to read each book in the Whispers on the Moors collection? Buy all three for just $14.99 and save!
Kindle: http://tinyurl.com/hqdfwd3
Nook: http://tinyurl.com/mlg7h3g
CBD: http://tinyurl.com/jdzg6xf