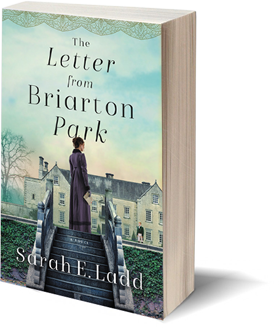 In Regency England, one letter will alter a young woman's fate when it summons her to Briarton Park—an ancient place that holds the secrets of her past and the keys to her future.
Order Now!
About the Book
Sarah Ladd's latest Regency romance, first in the new Houses of Yorkshire series, combines mystery and intrigue with the best of historical storytelling.
Cassandra Hale grew up knowing little about her parentage, and she had made peace with the fact that she never would. But Cassandra's world shifts when a shocking deathbed confession reveals a two-year-old letter from Mr. Clark, the master of Briarton Park, with hints to her family's identity. Stung by betrayal, she travels to the village of Anston only to learn Mr. Clark has since passed away.
James Warrington is a widower and the new master of Briarton Park, where he lives with his two young daughters, his sister, and his mother-in-law. When Cassandra appears at his doorstep with a letter from the previous owner and then proceeds to assist his family in an unexpected way, he is honor bound to help uncover the answers she seeks.
The more time Cassandra spends in Anston, the more she begins to suspect not everything—or everyone—is as they seem. As details emerge, the danger surrounding her intensifies. Using wit and intuition, she must navigate the treacherous landscapes between truth and rumor and between loyalty and deception if she is to uncover the realities of her past and find the place her heart can finally call home.
Sweet Regency romance with mystery elements
• The first book in the Houses of Yorkshire series, but can be read in any order
• Book length: approximately 91,000 words
• Includes discussion questions for book clubs
Praise for The Letter from Briarton Park
"The swoon-worthy romance of Jane Austen meets the suspense of Charlotte Bronte in Sarah Ladd's enthralling The Letter from Briarton Park. As Cassandra navigates the mystery of her own life, it is absolutely clear that family—either of blood or heart—are where she, and we, ultimately find our home."
Joy Callaway, international bestselling author of The Fifth Avenue Artists Society and The Greenbrier Resort
Other books in "The Houses of Yorkshire Series"
Disclosure of Material Connection: Some of the links in the page above are "affiliate links." This means if you click on the link and purchase the item, I will receive an affiliate commission. I am disclosing this in accordance with the Federal Trade Commission's
16 CFR, Part 255
: "Guides Concerning the Use of Endorsements and Testimonials in Advertising."