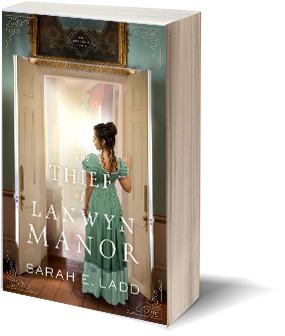 Perfect for fans of Poldark, Sarah Ladd's latest Regency romance, The Thief of Lanwyn Manor, explores Cornwall, England, and the secrets within one of its historic manor houses.
Order Now!
About the Book
In Regency England, an advantageous match could set up a lady for life. Julia knows Matthew Blake, copper mine owner and very eligible bachelor, is the gentleman she should set her eyes upon. But why can't she steal her gaze away from his younger brother, Isaac?
Cornwall, England, 1818
Julia Twethewey needs a diversion to mend her broken heart, so when her cousin invites her to Lanwyn Manor, Julia eagerly accepts. The manor is located at the heart of Cornwall's mining industry, and as a guest, Julia is swept into its intricate world. It's not long, though, before she realizes something dark lurks within the home's ancient halls.
As a respected mine owner's younger son, Isaac Blake is determined to keep his late father's legacy alive through the family business, despite his brother's careless attitude. In order to save their livelihood – and that of the people around them – the brothers approach the master of Lanwyn Manor with plans to bolster the floundering local industry. Isaac can't deny his attraction to the man's charming niece, but his brother has made clear his intentions to court the lovely visitor. And Isaac knows his place.
When tragedy strikes, mysteries arise, and valuables go missing, Julia and Isaac find they are pulled together in a swirl of strange circumstances, but despite their best efforts to bow to social expectations, their hearts aren't so keen to surrender.
• Sweet Regency romance
• Full-length novel, approximately 90,000 words
• Second in the Cornwall series, but can stand alone
Praise for The Thief of Lanwyn Manor
"Northanger Abbey meets Poldark against the resplendent and beautifully realized landscape of Cornwall."
(Rachel McMillan, author of The London Restoration)
"Cornwall's iconic sea cliffs are on display in The Thief of Lanwyn Manor, but it's the lyrical prose, rich historical detail, and layered characters that truly shine. The story anchors the foray into Cornwall's copper mining legacy with historical accuracy and brilliant heart. Fans of Regency romance will be instantly drawn in and happily lost within the pages – this is Sarah E. Ladd at her best!"
(Kristy Cambron, best-selling author of the Lost Castle series)
Other books in "The Cornwall Novels"
Disclosure of Material Connection: Some of the links in the page above are "affiliate links." This means if you click on the link and purchase the item, I will receive an affiliate commission. I am disclosing this in accordance with the Federal Trade Commission's
16 CFR, Part 255
: "Guides Concerning the Use of Endorsements and Testimonials in Advertising."